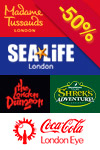 Londyn - pakiet 4 w 1
Cena od 276 PLN
Get the hottest offer in town! Right now, you can buy two attractions and get an additional two attractions FREE! This package deal includes Madame Tussauds, London Eye, London Aquarium and the choice between brand new attraction Shrek's Adventure or the always popular London Dungeon.
Highlights:
- Enjoy four of London's most popular attractions
- Buy two attractions and get two additional for FREE
- Visit the famous wax museum Madame Tussauds
- Admire London from above at Coca-Cola London Eye
- Enjoy an underwater world at SEA LIFE London Aquarium
- Visit the new attraction Shrek's Adventure! London or
- Get a good scare at London Dungeon
- Book online and get two free attractions
- Get a 10% discount voucher for Madame Tussauds shop

Exclusive Offer
This amazing package deal includes four of London's most popular attractions: Madame Tussauds, Coca-Cola London Eye, SEA LIFE London Aquarium plus the choice between Shrek's Adventure! London or London Dungeon.
If you are planning on visiting Madame Tussauds and London Eye, you might as well try our new and exclusive package and get tickets to SEA LIFE London Aquarium and Shrek's Adventure! London or London Dungeon at (almost) no extra cost!

Visit Madame Tussauds London
Explore the world-famous wax museum in London and meet the British royal family, hang out with the Justin Bieber or try the new Sherlock Holmes Experience. Your tickets also include the new incredible Stars Wars Exhibition.

Enjoy the View from Coca-Cola London Eye
By the Thames, just across from Big Ben, lies one of London's most famous landmarks, the Coca-Cola London Eye. From here you can enjoy a whole new view over the city 135 meter above sea level. It's an absolute must when visiting London.

Explore the World under Water
At SEA LIFE London Aquarium, you can experience 500 species from all over the world, more than 40 different sharks and 14 themed zones over three floors. It's fun for the entire family!
Get a Good Scare at London Dungeon
Take a 90-minute journey through 1000 years of London's past. You and your companions walk through the Dungeon, moving from show to show, guided by the professional actors. It's both fun and a little bit scary!

Go on an Adventure with Shrek
Your Shrek adventure! London begins when you board a magical 4D DreamWorks Tours bus. With Donkey as your cheeky tour guide, calamity, chaos and endless fun are the name of the game.
Take part of the 10 live fairy-tale themed shows where you can visit Shrek's swamp, find your fortune in the crystal ball, get lost in the Mirror maze and reveal your inner Ogre when you need to!

Shrek's Adventure! London is situated right between Coca-Cola London Eye, London Dungeon and SEA LIFE London Aquarium , so you can make the most out of your day!
How do I get my tickets?
Shortly after your booking is complete your e-ticket will be sent directly to your email, just print it out and bring it with you to Madame Tussauds in London.
You must redeem your e-ticket at Madame Tussauds at door 1.

How does it work?
Madame Tussauds: It's a good idea to visit the wax museum the same day as you pick up your tickets for the 4 Attractions Combination Ticket.
Shrek's Adventure: 1) You can choose to get in line, waiting time approx. 10-45 minutes. 2) You can show up at Shrek's Adventure and choose a specific time slot for later that same day or another day. That way you can return to Shrek's Adventure later and avoid waiting in line.
London Eye: Check in at the desk for prebooked tickets in the ticket hall (you skip the line to the box office) and wait for the next available gondola. Please note: Your ticket is a standard ticket, not a Fast Track ticket.
SEA LIFE London Aquarium: Your ticket is an open ticket, which is valid for one visit on a day of your choice.
London Dungeon: Due to high popularity, the London Dungeon has a new entrance policy. Upon arrival at London Dungeon, you'll be asked to exchange your voucher for a timed ticket for the same day. We guarantee access to London Dungeon either within 45 minutes of arrival or at a date and time that best fits in with your plans. None of our customers have waited the full 45 minutes, but we still offer you the flexibility to plan your day as best suits you.

How long are my tickets valid for?
Your tickets are valid for one month once printed at Madame Tussauds. Please note: All tickets must be used on December 30, 2018 at the latest.
Are there children's tickets?
Yes, children's tickets are available for children between age 3-15. Children between age 0-2 are free when accompanied by a paying adult.

How do I get my 10% discount voucher?
On your e-ticket there is a link to your exclusive 10% discount voucher for Madame Tussauds souvenir shop. Just print the discount voucher and present it to the cashier at Madame Tussauds souvenir shop to redeem your 10% discount.

Important information:
- This exclusive offer is valid until December 30, 2018.
- Please note: All tickets must be used on December 30, 2018 at the latest.
- Your tickets for Coca-Cola London Eye are standard tickets, where you skip the line at the box office. But there might be lines to the gondola, which you do not skip!

* The deal is based on prices at the door on the day.
Fantastycznie
4.7
Opinie od 9 opinie klientów
Wycieczki 4w1 zgodna z opisem
Zakupiliśmy bilety z wyprzedzeniem, na adresie mailowym mieliśmy je po paru chwilach. Cena zdecydowanie korzystniejsza niż zakup tych samych biletów na miejscu. Zwiedzanie rozłożyliśmy na dwa dni. Trzeba uzbroić się w cierpliwość jeśli chodzi o odebranie biletów w muzeum figur woskowych (jeśli podróżujecie z dziećmi zalecam aby jeden z dorosłych stanął w kolejce a reszta poszła na spacer, kolejka długa, mało miejsca i dość duszno, były otwarte tylko 2 okienka, a osoby chcące zwiedzać też nie pomagały w tym aby tą kolejkę przyśpieszyć zadając mnóstwo pytań o to, co można spokojnie przeczytać w internecie. Dla osób szukających trochę rozrywki poza normalnym zwiedzaniem Londynu z czystym sumieniem mogę polecić ten pakiet atrakcji
Magda
Rezerwacja sprawna. Super sprawa ,że odbiór wszystkich biletów był w jednym miejscu -Madame Tussauds. Muzeum zwiedza się od razu a terminy reszty atrakcji należy zarezerwować przez inetrnet(wszystko dobrze opisane,intuicyjne). Przed zwiedzaniem muzeum figur woskowych i London Eye trzeba uzbroić się w cierpliwość,bo kolejki są spore ale naprawdę warto. Shrek Adventure fajny ale całe zwiedzanie odbywa się w języku angielskim (może być to mały problem dla mniejszych dzieciaków)-mimo to warto. Naprawę polecam zarówno tę stronkę jak i atrakcję.
Polecam! Świetna opcja zarówno dla dzieci jak i dla dorosłych. Madame Tussauds to chyba najbardziej popularne miejsce - nie trzeba reklamować. Jeśli chodzi o London Eye, to nawet gdyby były duże kolejki, nie zniechęcajcie się. Warto postać! Szczególnie w

Polecam! Świetna opcja zarówno dla dzieci jak i dla dorosłych.

Polecam! Świetna opcja zarówno dla dzieci jak i dla dorosłych.

4-1 London Combo
Rezerwacja bardzo szybka i łatwa. Rezerwowalem tylko tydzień przed wyjazdem. Atrakcje godne polecania na wypad z rodziną lub znajomymi. Trzeba trochę postać w kolejce ale co to jest w porównaniu to wrażeń
Polecam
bardzo fajna oferta, odbiór biletów sprawny, atrakcje godne polecenia. Sea Life dość słabe, u nas w Polsce, np. we Wrocławiu mamy dużo ciekawsze.
4-in-1 London Combo - warte swojej ceny, atrakcje super!!
Gosia
Jestem zadowolona bardzo , wycieczka z kombi była udana polecam i polecę wad kiedykolwiek znajomym i napewno jeśli jest możliwość skorzystać w przyszłości w innych krajach to , to uczynić ( zakup biletów bo się opłaca) dziękuję serdecznie
Bardzo polecam!
Kupując pakiet 4 atrakcji można naprawdę dużo zaoszczędzić! Rezerwacja sprawna i pewna! Atrakcje bardzo fajne- zwłaszcza dla dzieci (wycieczka była zorganizowana pod ich kontem). Oprócz Madame Tussaunds wszystkie atrakcje w jednym miejscu- wygodne.
Wprawdzie oceanarium widziałam fajniejsze w Monako, ale i tak rekiny i pingwiny są rewelacyjne!
Dzieciaki były zachwycone!